A kitchen printer facilitates communication between your kitchen crew and your wait staff, thus providing a better customer experience.
Kitchen printers can significantly lighten the workload of a restaurant employee. If your restaurant is larger than a coffee shop, you will probably need one. They can greatly reduce errors and streamline your ordering process, eventually making your customers happier and increasing your earnings.
In order to meet these goals, a POS system with a kitchen printer should deliver fast, detailed messages for each order.
This article will outline the specifics of how kitchen printers work, the costs and benefits, and why you should consider them.
What are Kitchen Printers?
A restaurant's point of sale (POS) is linked to a kitchen printer. When a server rings up a customer's order, the POS logs the transaction, and a paper ticket is issued in the back of the house for the kitchen crew.
A kitchen printer is far more economical than other options, such as a kitchen display system, making it a more appealing choice for many. Additionally, many restaurant owners are most at ease using this method because that is how businesses have traditionally kept track of customer orders.
How Kitchen Printers Work
If you think kitchen printing is a straightforward process, then you are correct. This functionality will be provided by almost all POS systems with an adequate set of features. When you enter an order into the POS, it will print wherever your printer is situated in the kitchen, most likely somewhere where a kitchen staff member can easily see and hear it. A server or cashier no longer needs to write an order down by hand, walk it to the kitchen, or pin it on a corkboard. Moreover, as you'll see, it can significantly increase your efficiency by allowing you to attend to customers more quickly and minimize errors.
How Can Kitchen Printers and Kitchen Receipts Improve Restaurants' Efficiency?
To some people, a handwritten ticket with shorthand that the cook and waiter could only read has a certain allure and charm about it. A kitchen printer, however, ought to be on your restaurant shopping list if efficiency (and possibly happier customers) are what you're after. Here are a few reasons why:
Accuracy
A kitchen printer allows the cook to see what was entered into the point-of-sale system. There's no reason to question someone's handwriting or a pen's sweaty smudge. Your chefs can stay in the kitchen while feeling confident that the orders coming in will be accurate.
Speed
Orders are immediately printed out and sent to the kitchen's designated location, where the chef can hear them and set them to work right away. In the brief period of time that exists between the register and the kitchen, a waiter cannot afford to become preoccupied with another customer or task. While it seems like a short period, it can add up.
Streamlined Technology
Kitchen printers might be even more helpful if you also employ other modern equipment in your restaurant. If tableside ordering were in place, a waiter wouldn't need to return to a POS station to send the order back to the kitchen. And if you have customized stations, customers may occasionally place their orders directly from the table.
If you have a bigger restaurant, you might also want to think about getting extra printers for various kitchen sections. Then, you could automatically print different foods to the appropriate section, sending appetizers to one printer and entrees to another, reducing the likelihood of confusing conversations between your kitchen staff.
Simple Modifiers
A dish with more than one option or a customer who has a long list of special requests can be challenging for a waiter or chef. With the help of your POS and good kitchen printers, you can easily identify orders with a well-organized ticket. Servers can typically type in any specific, one-of-a-kind instructions into a POS system, saving them the time of going back to the kitchen.
Things to Consider Before Buying a Kitchen Printer
Although a printer is, at its core, a fairly basic piece of equipment, not all kitchen printers have the same features. So let's look at five essential features to seek in a printer. These features make for wonderful additions to both front-of-house and back-of-house printers and are a good place to start when looking for a kitchen printer.
Front-Loading Paper Design
First, look for a printer with a front-loading paper design. Front-loading printers are built with simple loading and minimal maintenance in mind. Without a doubt, your staff members frequently need to change the printer paper. Moreover, a front-loading design allows quick access to a paper switch, reducing wait times and keeping lines moving.
Multiple Connectivity Options
When it comes to internet access, people in today's modern world want uninterrupted service. Surprise, surprise! Your restaurant fulfills that expectation as well. So when it comes to your kitchen POS printer, don't set any connectivity restrictions.
Online ordering printer with several connectivity options, such as Wi-Fi, Lightning USB, conventional USB, Ethernet, Bluetooth, and others, enables flexible, reliable use across all restaurant locations. Furthermore, many connectivity options will guarantee that your printer is constantly operational because mobile payments, including pay at the table, are becoming popular in all types of restaurants.
Easy Software Integration
Integration is crucial in a kitchen point-of-sale system. The days of downloading several drivers, calling technical support, and clicking around to integrate printers and software are gone. Most people don't have the time to sit on the phone to troubleshoot problems.
Technical support should also be taken into account if you do require assistance. A kitchen printer with a committed technical support team and a wealth of online materials will surely be useful at the right time.
Stylish, Minimalistic Designs
One component of your POS system that receives a lot of customer visibility is your front-of-house kitchen printer. Make sure it looks fantastic!
Choose a kitchen printer design that is both stylish and high-end while also being compact and durable. In the future, it will be harder to find a POS receipt printer that takes up a lot of space on a checkout counter because bigger isn't always better.
Instead, anticipate stylish, minimalistic features, even for printers robust enough to function in a kitchen setting. Make sure your printer is built to impress your customers because first impressions matter a lot. This is even true for an online ordering printer and receipts.
Customer Engagement Services
These days, printers are capable of offering much more than just transactional information. In fact, you can now offer things like discounts, polls, promotions, and more using your printer instead of third-party businesses.
Find out if the manufacturer of the printer you are considering provides these value-added customer engagement services. These services include, for instance:
Digital Receipts: Your customers can store and manage receipts on their digital devices with cloud-based digital receipt solutions.
Customer Surveys: These surveys provide a direct line of communication with your customers so you can get immediate feedback on how your business is doing. They can even be printed right on the receipt.
Receipt Marketing: There are other services available that let you use your receipt as a marketing channel. With the help of these tools, you may design unique promos that appear on your receipts.
Key Benefits of a POS System with a Kitchen Printer
Installing a POS system with a kitchen printer will make your restaurant's operations more efficient. As an adaptable solution, it offers a unique set of advantages for your restaurant. Here are some of the benefits of a technologically advanced POS solution that are relevant for an online ordering printer:
Simplify Your Order Management Process
Getting a customer's order to the chefs who will prepare it is a unique process for each restaurant and food service establishment. Organizing and distributing information about orders is an important aspect of the overall dining experience.
The ordering system you use greatly influences how customers move around your dining area, so it is crucial to have a seamless system in place.
For an effective order management system for your restaurant, you need a POS system that includes a kitchen printer.
Keep Your System Very Simple
Your order selection should be reduced to a list of numbers for various menu items. That is the simplest approach. The majority of restaurants and food service establishments aren't able to maintain such simplicity. As a result, revisions and unforeseen events are inevitable.
A POS system with a kitchen printer can manage complexity while maintaining a focus on simplicity. The key is to include enough adaptability and inventiveness into the overall system in order to ensure that the output message is always concise and clear.
To achieve this, you need to carefully select a number of printers for each target area in your kitchen. You can have the dessert, bar, grill, dessert, and entrée personnel only see messages relating to their team services by combining these outlets into a touch screen terminal for your wait staff, while the front-of-house staff keeps track of what is expected.
When a waiter taps a visual icon on an iPad to enter each item in a three-meal order, the POS system will match that item with its appropriate location.
Manage Customer's Preferences
You can either make or break a customer's evening by how you handle his or her special dietary needs and preferences. It is crucial that your employees are aware of the kitchen's capabilities, and you must acknowledge how important it is to respect client preferences and dietary requirements.
If your staff has agreed on the parameters for meal changes, including ingredients added or subtracted and an acceptable range of cooking times, you may include these variables in your POS system with an understandable message.
Integrate Other Business Areas
In the same way that POS systems are networked to connect all members of your service team, POS systems can also be connected with other areas of your business.
Models that are most successful rely on integrated software platforms that offer tools for analyzing sales, finances, inventories, customer loyalty programs, live service monitoring, and more. In this way, you will have a complete understanding of how your restaurant makes and loses money.
How to Choose the Best Kitchen Printer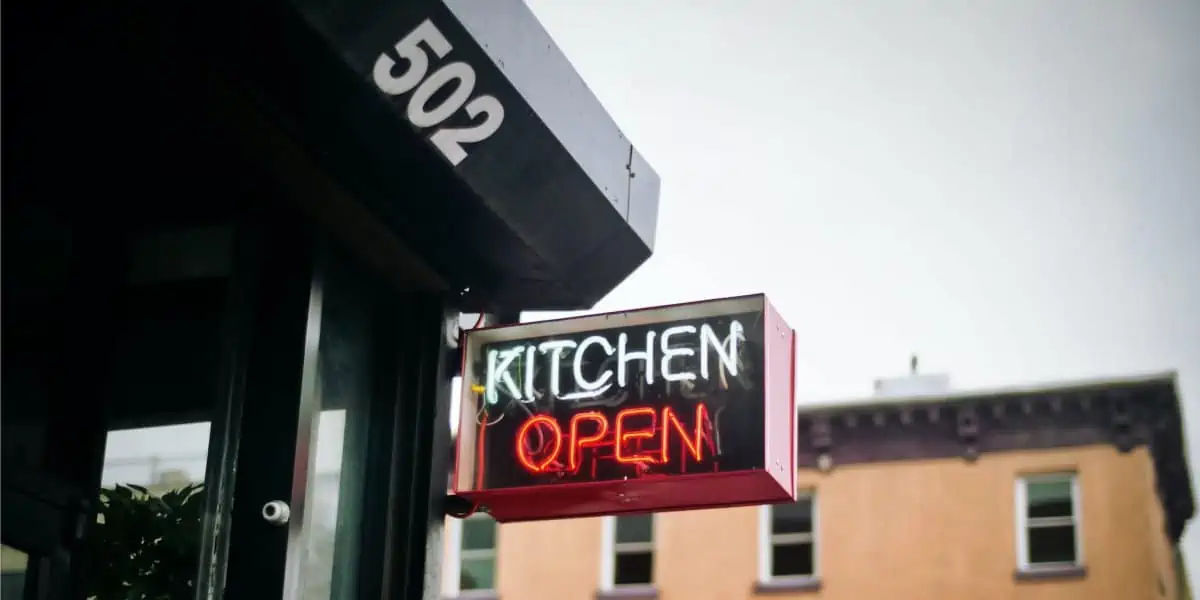 Although thermal and impact printers are useful and perform similar tasks, selecting the right option can have a significant impact on your restaurant's productivity. Consider the following factors before choosing a printer:
The Differences
The primary difference between the two kitchen printers is how they print.
Thermal printers offer fast and quiet printing. Instead of standard ink and toner, they work by producing heat with a thermal head and specialized paper that has been treated to respond to heat. The thermal head contacts the thermal paper roll to produce the printed docket. The use of thermal printers has increased dramatically in recent years, as they are also the most affordable option available.
Impact printers, however, use pins to cover the print head. They use a traditional ink ribbon to make small dots on bond paper to form letters. Some versions print graphics and logos as well as red and black ribbons. Impact printers can produce one-, two-, or three-ply dockets, and are perfect for specific applications like kitchens where multiple copies of the docket are required.
Which One is Better?
Which model is ideal for you will depend on how you intend to use the printer. You can use a thermal printer to print credit card receipts and transaction dockets. In comparison with impact printers, thermal printers are about seven times faster and much quieter.
Nevertheless, if you are using the printer in a kitchen where your staff will pick up orders, an impact printer would be a better option. They are slower and noisier, but the paper they use is more suitable for the hot, humid environment of a real kitchen since it is heat-resistant, and there is the choice of two or three-ply dockets.
You should also consider the cost when choosing a printer. Some capabilities may not be worth the investment.
How Many Do You Need?
Whether you need one or two printers depends on your business model. Some restaurants can manage with one or two printers. You may, however, find it more practical to install printers at each food and beverage station depending on your restaurant's size, layout, and volume of business. Your stations will have the order tickets they need to provide your clients with the most precise and efficient service possible.
Any Ongoing Costs?
In contrast to thermal printers, impact printers require ink ribbons. In spite of this, printer ribbons are reasonably priced and easy to obtain.
In theory, thermal printers should be more reliable since they contain fewer moving parts. However, this also makes them harder to repair, so you might have to replace your entire printer if anything goes wrong.
How to Optimize Your POS System with Kitchen Printing Technology
Follow these steps to integrate your restaurant POS software with kitchen printer technology as seamlessly as possible:
Make Sure the Printer is Compatible with Your POS System
It is not uncommon to purchase kitchen printing equipment or point-of-sale (POS) software separately, or without paying attention to their specific compatibility criteria. This often results in poor performance or restricted functionality.
POS solutions and kitchen printers should be compatible, so you must address any compatibility issues. POS software vendors should have a concise list of kitchen printers that are compatible with the systems they sell in order to guarantee printer compatibility.
Choose the Right Support and Maintenance
In addition to providing you with a list of printers that work with their POS software, a good POS provider should also tell you how the hardware was approved for each feature.
You should be able to get both hardware and software support from one company, streamlining the process and providing a maintenance plan for your business.
Develop an Ordering Strategy
Now that you have all the necessary POS technologies at your disposal, it is time to decide how data will be sent to your kitchen printers. The first step is to define your order strategy.
Your POS provider will assist you with the alignment of your ordering and other business operations with the POS system by assisting with this process.
Wrap Up
In order to benefit from data-driven insights from a POS system, your staff must effectively use a kitchen printer. By planning ahead and training your staff, your kitchen and front-of-house personnel can work together without miscommunication or delays in processing customer orders. You will undoubtedly maximize their productivity and efficiency.