A Guide To Contactless Payments
What are contactless payments, and how do they work? Are they completely safe, and should you opt for the convenience of contactless payments? Over the years, technology has changed, and it has brought innovations in the way we conduct business and also in the way we many things. One of the innovations in technology is contactless payments and the tap and go form of payments. This article will talk about how you can use contactless payments, and it will also help you differentiate between contactless and cashless payments.
Contactless Vs. Cashless Payments
Contactless payments are two terms that are often used interchangeably, but these two terms are very different. Cashless payments are payments that are made without using cash and bank transfers, credit card payments, etc. are all categorized under cashless payments. Contactless payments are the form of payments that use radio frequency identification technology to make payments. Some examples include Apple Pay, Google Pay, and Samsung Pay. Instead of swiping your card, you simply wave your card to make payments, and you don't require any signature or any pin number entered on the payment terminal. All you need to do is wave your card or smartphone near the payment terminal, and your payment is made. With smart phones, authentication may be required in the form of a pin, facial recognition, or a fingerprint scan.
What Are The Problems With Contactless Payments?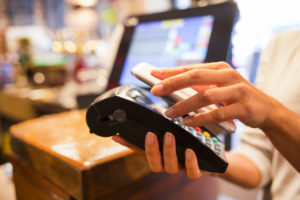 Like every form of payment, contactless payments are not that perfect, and they come in with their own share of problems. With contactless payments, many customers worry about fraud and whether or not their financial information will be safe. The perpetrator needs to gain access to your card to make contactless payments, and in most cases, you are notified by your bank about unusual transactions taking place, and you can easily block that card. Over time, in-person fraud has become more and more challenging to carry out, and most forms of contactless payments are PCI compliant, which protects consumers.
Why Should Businesses Adopt Contactless Payments?
Contactless payments are easy to carry out, and they are also convenient for your customers. Customer convenience is the topmost priority for businesses, and therefore companies should work on adapting measures that help make things easier for their clients. Your clients will think that you have an upgraded and futuristic approach towards the way you do business, and it will leave an overall positive impression. With the advent of technology, there are many more payment options available like Apple Pay and NFC, and many people don't merely rely on their credit and debit cards for payments. Some customers also use their fitness watches and their wristbands for contactless payments. If you're thinking about accepting contactless payments, then you should also consider the type of customers your business attracts. If your business attracts people that are more technologically oriented, then installing contactless payment systems can be a good option for your business, but even if not, most contactless payment terminals still allow more traditional payments like EMV chip cards. At Host Merchant Services, most solutions we offer are enabled for NFC and contactless payments at no extra cost, so our merchants are ready when their customers begin adopting these technologies.