How Is COVID-19 Transforming E-Commerce Merchants?
There is no doubt COVID-19 has redefined our life, and its impact could, presumably, last for years. The way we socialize, work, and function has rapidly changed, and so has our buying behavior. Online shopping has become the new norm as consumers are finding it safer and more reliable. Even local businesses are turning to online platforms for sales and services, but the non-essential industry has suffered dramatically. Grocery, medical supplies, healthcare items have experienced a sudden boom while the tourism industry has collapsed. Meanwhile, beauty items, fitness products, and tech retail have seen slow but steady growth.
Many big brands have restructured to meet the changing demands and increase their endurance during the pandemic. Here are a few practical ways to transform in the wake of COVID-19.
1.   Entering New Markets
Corporations such as commercial airlines have entered new avenues to ascertain stable earnings. The unprecedented drop in commercial flights has led to large airlines like Virgin Atlantic, Lufthansa, and many others to switch to cargo flights. Passenger cabins are available for the transportation of grocery and healthcare items.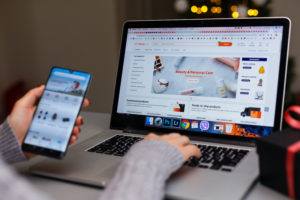 2.   Switching to Online Platforms
Grocery e-commerce soared during the pandemic as 72% shoppers used their mobile phones to buy household items. Due to this, many retailers and brands have launched user-driven apps and revamped their online stores to improve the online shopping experience. Encryption of personal details has become stringent to support safe and secure payment methods.
3.   Offering Sales and Other Incentives
Many beauty and skincare brands are offering sales and discounts. Around 72% of the top online retailers are running promotional activities to attract consumers. Many luxury brands, including exquisite jewelers, have slashed prices to recoup sales. At departmental stores, markdowns are even steeper for steady revenue.
4.   Setting Up Curbside Pick-ups:
Amidst the COVID-19 outbreak, many businesses have switched to BOPIS (buy online pick-up in-store) and curbside delivery methods. Since early January, around 55% of the consumers placed online orders and opted for BOPIS for convenience and safety. However, the industry is still in its developing stages as we can often see long queues at pick-up points. Digital check-ins and scheduled pick-up times could be a few ways to enhance the experience.
5.   Strengthening Customer Relationships
To strengthen their brand image, many companies are supporting front-line fighters by providing them various incentives. Many cosmetic and alcohol brands have distributed hand sanitizers and protective gear among front-liners such as healthcare providers, law enforcement agents, and other essential workers. It is to show gratitude to those who are putting their lives at risk for our safety.
However, it is still too early to predict the implications as the circumstances are uncertain. The shopping behavior of millions of consumers has changed within just a few months. Besides, time-saving and convenience has put considerable strain on e-commerce merchants. Many are striving to remove friction in online shopping to build a loyal customer base. Nevertheless, there is a consensus among buyers and retailers that old shopping habits will resume once the lockdown ends. This would slow down the growth rate of e-commerce sales, thus giving them ample time to adapt to the new retailing landscape.