Amidst the global pandemic, many countries are resuming the routine life and easing the lockdown. However, recent studies have shown that around half of the US population is still worried about their health and how shopping, eating, and social interaction can affect it. Therefore, many businesses and shoppers are more inclined to make contactless payments, which has shown a 40% jump in the first quarter of 2020. As the payment trend has grown prominence, NFC-enabled payments across the world can exceed $130 billion within 2020.
What are Contactless Payments and Their Global Outreach?
Contactless payment is a well-encrypted, secure payment mode to buy products or services using NFC (near field communications) enabled devices or cards. When the reader and payment device are near, it activates NFC chips to exchange encrypted data for money transfer. In simple terms, you wave your device in front of an NFC powered payment terminal to make purchases, contact free. But you also require NFC-encrypted payment apps such as Apple Pay, Google Pay, Fitbit Pay, or Samsung Pay on your mobile device to make the contactless payment happen. Some credit and debit cards also have contactless capability embedded in chips that you can then wave or tap to pay on an NFC enabled reader.
Before the Coronavirus outbreak, this global trend wasn't prevalent in the US, as only 10% of the consumers were using the technology. Europe however had the largest share in the contactless payment terminal market, due to an increase in smartcard rollouts and technological advancement. According to UK Finance, around 1/3rd of all the card-based payments happened through contactless methods in Q1, 2019. However, the Asian region has been slower to adopt NFC based technologies due to its efficient QR code system that doesn't require select apps, or POS systems.
Coronavirus – The Driving Force for Contactless Payment in the US
The number of digital wallet users worldwide has doubled in 2020, with Apple Pay and its 227 million users becoming the most prominent, according to the Wall Street Journal.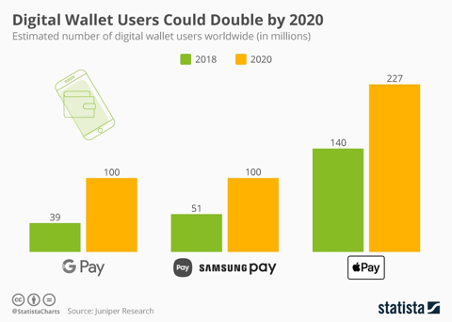 https://www.statista.com/chart/19972/digital-wallet-users-double-2020/
The pandemic has redefined consumer priorities, making no-touch payments a necessity. New York Transit Authority laid the groundwork in May 2019, when it announced contactless payments for select subway lines. Being early adopters, they were still pretty late in the global market in relation to other significant metropolises, including London Underground System which adopted the technology in 2014. It is not only public transport, but the worldwide financial industry that relies on contactless payments today. In the Netherlands, every store allows no-touch payment methods, whereas the US didn't have major adoption for NFC until 2019 when contactless payments increased by 150%.
Meanwhile, food services brands such as Starbucks, McDonald's, and Dunkin' led the way with their contactless payment apps. The wearable market also accelerated the adoption rate in the US with the popularity of smart watches and similar devices. The tech-giant, Apple, teamed up with many different brands to improve mobile payment experience. Scooter rental company Bird and clothing retailer Bonobos some notable partners offering NFC-enabled payment to Apple users, without the need for any third-party apps. Small businesses have also reported a 27% growth in the contactless payment made through smart cards and mobile phones.
Nevertheless, card issuers control the widespread adoption of contactless payment in the US. Analysts believe NFC-enabled technology can coexist with traditional card systems and mobile wallets as depicted by tech-savvy nation worldwide.