The COVID-19 pandemic and the resulting stay-at-home orders across the globe and country during the past few months has led to a significant reduction in both the number of merchant services transactions and dollar sales in our country. With predictions of a global decline in GDP, there are few bright spots in the economic fallout. One concrete result of the pandemic is a move to touchless transactions in efforts to reduce the spread of the virus.
Cashless Society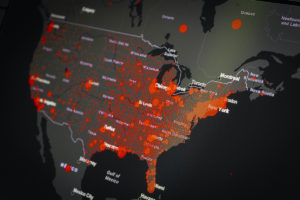 After the World Health Organization warned that banknotes may spread coronavirus, they recommended using contactless payments to mitigate the spread. Not to mention, microorganisms can transfer to credit cards at point-of-sale terminals during credit card processing, and PIN pads carry similar health risks. And because retailers had to shut down and sell online exclusively, the use of cash is disrupted due to the shutdown.
Global Scale
Depending on the spread of the virus, the public health response, and the effectiveness of the fiscal, monetary, and broader public response, the global GDP would potentially decline by 1.5% in 2020 after two to three months of economic lockdown in Europe and the United but would decline by 4.7% after a resurgence of the virus in China and continued spread in the United States and Europe.
A slowing global payment-revenue growth is expected to cost the payment industry $165 billion to  $210 billion in 2020 revenue. The net interest-margin component, which is the source of 60% of payments revenues, accounts for 20% of the decline. The transaction component, which is the source of 40% of payments revenues, is responsible for 80% of the decline. A 1.5% economic contraction would lead to an 8-12% reduction in payment volumes.
Local Scale
Due to stay-at-home orders and the close of non-essential businesses, total transactions and dollar sales fell nearly 50% and more than 25% respectively in the weeks following shutdown orders. Active merchants dropped by 25% with more than a quarter of merchants posting no transactions at all. Urban areas showed sales decreasing by 22.5% since the first week of March while medium-sized cities have decreased 26.5%, small cities 26.5%, and rural areas 31.1%.
Despite the drop in card-present sales (nearly 50% drop in March), card-not-present sales only decreased by 15.2%. Sales for on-site technical services such as plumbing, heating, and contractors remains steady perhaps due to stay-at-home restrictions. Also sales between 5 am and 11 am are increasing, accounting for the special hours for seniors and high-risk shoppers, as well as for customers looking to shop outside of traditionally busy hours.
Host Merchant Services
During these turbulent economic times, depend on a stable and reliable payment processor to partner with your business to minimize the impact of worldwide instability. Payment processing should be the least of your concerns. Delivering personalized service and clarity, Host Merchant Services takes the time to explain your payment processing. We want you to understand your monthly statement, and we will ensure that your statement matches our promises during our sales presentation. If you do have questions, you can reach a live representative any time, any day. HMS offers wonderful customer service, as well as great rates.
Host Merchant Services even explains where our profit lies in the pricing structure to be fully transparent in all directions. Pricing fairness and transparency is our strategy in helping our customers find success with their businesses.