Top E-commerce Trends for 2020
E-commerce trends are making the shopping experience easier for the consumer. Moving in the direction of personalization and new customer experiences, the e-commerce industry is dynamically transforming every year, especially with the assistance of AI. Providing multiple avenues of payment and streamlining payment processes are only part of a merchant's strategy in making paying for something as easy as possible. 
With a projected $4.8 trillion in retail e-commerce sales for 2021, companies are working to keep up with e-commerce trends. Not only are sales projected to increase, the number of buyers is projected to reach 2.14 billion by 2021, up from 2.05 billion buyers in 2019. Accounting for more than 20 percent of the global population, online buyers are rapidly changing the online shopping experience. From social commerce to voice commerce, companies are responding to the online demand and making online shopping more enjoyable and online payments easier. Here are the top e-commerce trends for 2020:
Artificial Intelligence: Chatbots & Assistants
Freeing up business owners to focus on the more nuanced aspects of running a business, artificial intelligence (AI) can manage inventory, answer product questions, and handle complaints all while learning from the conversations for better results in future interactions. 
Virtual reality (VR) along with 3D imaging and augmented reality (AR) enable consumers to interact with the product on a laptop or smartphone. Bringing the in-store tangible experience to an online shopper, AI leverages 360-degree photos and product videos to engage shoppers. 
With Google Assistant and Amazon Alexa, consumers can shop by voice search. And with Loop Ventures forecasting that 75% of U.S. households will own a smart speaker by 2025, businesses are making purchases by voice command readily available.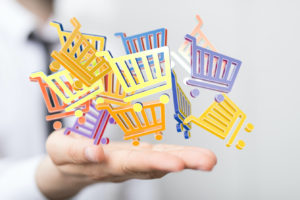 Catering to the 2 billion people who access the internet via smartphones, e-commerce platforms like PayPal and Amazon Pay streamline the sale of online products. Features such as storing registration data on the mobile device, ensuring the search window is visible on the home page, locating an easy to tap call-to-action, tailoring online experiences, and a providing a distraction-free checkout process make mobile shopping easy and accessible for the online consumer. 
Embracing social media influencers and the "swipe to buy" revolution, some online businesses sell exclusively on Instagram, Facebook, and Pinterest. Not only are commerce merchants available by mobile, they're also accessible by social – social media that is. Increasing 110% in two years, social referrals to retail websites have outpaced every other channel. With easy and pleasant online social experiences, a business with a social presence can engage consumers to the point of buying. 
The e-commerce revolution is underway in the American economy. Exponentially growing and innovating, e-commerce can boost merchants who keep up with the trends. From mobile phone accessibility to voice command availability, merchants can now be everywhere for their customers. Catering to the online consumer in a myriad of ways is the only path to success for the modern entrepreneur. 

Host Merchant Services
Founded on fantastic service, Host Merchant Services is structured around a strong backbone of customer service. Founded in 2008, we have 11 years and thousands of happy merchants to show for our commitment. Customer service is still our number one priority. In fact, our merchant support team is four times larger than our sales team! We don't believe in hold queues either, so you'll never have to wait in line. When you're with Host, you'll get first-class treatment!