There has been a lot of talk amongst the business community about the effects of the coronavirus pandemic on the economy. While there has been a downward trend for brick and mortar businesses due to social distancing, e-commerce has seen a rise. While it's not too surprising considering many people are shopping online for their basic needs, it's gone far beyond that. It would appear there is an uptick in online sales across the board. This includes essential items just as much as non-essential. People miss shopping and they've turned to online merchants to do it. Is it just the pandemic causing the rise in e-commerce? Experts don't think so and we'll tell you why below.
Online Shopping is Overtaking Retail Sales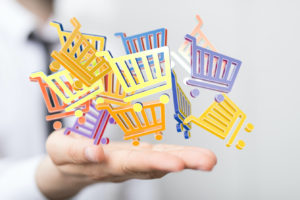 If you tell someone that online shopping has gone up during the COVID-19 pandemic, you might be met with knowing glances. It makes logical sense that people are buying online now more than ever. However, this trend actually started before the lockdown orders began. In fact, the initial report from the U.S. Department of Commerce came out in April 2019 and noted that in February 2019, for the first time ever, that the total market share of e-commerce sales was higher than general merchandise. This is a massive indicator that online shopping is not just a fad or only used for convenience, it's here to stay.
When this report came out, there was a slight increase in e-commerce with a lead over retail stores of less than 1%. Fast forward a year later and the Quarterly Retail E-Commerce Sales Report for the first quarter of 2020 shows e-commerce has increased by 2.4% since the last quarter of 2019 and 14.8% since their initial report last year. That is massive growth and shows that e-commerce is booming amid COVID-19 concerns. However, since this uptrend was already happening long before the pandemic, experts believe it won't be changing anytime soon.
E-Commerce is Still the Wave of the Future
Online shopping has been around for decades now but it continues to grow and expand at a rapid pace. There are always new products and new ways to sell them. Technology is always evolving and the e-commerce community is both creative and innovative which allows it to keep growing. Recently, Facebook introduced Shops, which will allow businesses to sell their products more easily on the social media platform.
Forbes also recently reported that e-commerce's share of overall retail sales has now moved past 25%. In this article, Laura Hyland, vice president of e-commerce at Henkel, explains, "Previously, brands pushed customers to purchase these kinds of products in the store. They refused to give Click & Collect as an option. The days of pushing people into stores are over."
If you're curious about what specific categories in sales have been booming during the coronavirus pandemic, Forbes reports that bread makers, computer monitors, and even ping pong tables have all seen a huge boost. If you've been thinking about starting your own e-commerce business, there has never been a better time to get started. Many online businesses are enjoying a big bump in sales and interest and you could, too! Check out the most popular e-commerce merchants as well as some of our merchant services.