How Might Coronavirus Affect the Payments Industry?
Not handling cash is one measure consumers are taking to avoid the risk of exposure to Coronavirus, or Covid-19. Contactless payments are already on the rise as consumers find avenues that allow them to avoid touching possibly high-risk payment terminals. Payment processing by self-checkout may become more popular for consumers avoiding human interactions.
Cash Contagions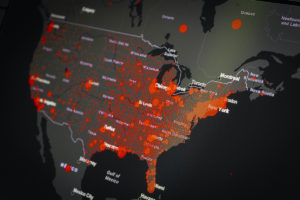 According to a U.S. Air Force study of U.S. banknotes in Ohio from 2002, 94% showed traces of bacteria such as E. coli, Salmonella, and Staphylococcus aureus. Of the 43.4 billion U.S. banknotes in circulation in December 2018, the $100 bill is the most popular and the $1 bill second most popular, according to the Federal Reserve.
While the U.S. has yet to follow suit, Chinese authorities have required Chinese banks to sanitize cash via ultraviolet light or high heat and then store the cash for seven days in non-infected areas and 14 days in infected areas. The Chinese government also printed bank notes equaling Yuan four billion, or $572 million, for distribution in Wuhan where Coronavirus originated.
In addition to credit card processing that eliminates human interaction, as well as the avoidance of cash, vendors also are making way for an increase in online sales.
Shopping Online
Along with museums and educators making their content available online, vendors are experiencing an increase in online sales in China. Alibaba added 10 servers to fulfill the demand, mimicking the spike in online sales resulting from the 2003 SARS outbreak.
Car buying and visiting a health care professional are now available virtually via apps providing a virtual test drive or offering vital signs monitoring. Virtual assistants and delivery apps are helping seniors who are disproportionately affected by the negative outcomes of the Coronavirus do their grocery shopping and other errands without leaving the safety of their homes.
eCommerce Fills the Void
As eCommerce filled gaps left by traditional banking and business during the 2008 financial crisis, the innovations of the eCommerce booms are here to mitigate the impact of the Coronavirus potential pandemic by leveraging the technology that allows workers to work remotely, that allows consumers to make money by participating in side gigs like selling their clothing online, and that reduces the cost of B2B payments, both making and receiving.
The payments industry can rise to the occasion by embracing contactless payment options for brick and mortar operations and expanding online payment options for what will be an ever-increasing demand to live a virtual life during the next six to 12 months while the world waits for a Coronavirus vaccine.
Host Merchant Services
Host Merchant Services will help you find the online shopping cart software that works most efficiently with your payment processing setup. And we'll help keep your shopping cart working smoothly. Founded on fantastic service in 2008, Host Merchant Services is structured around a strong backbone of customer service. 12 years and thousands of happy merchants later, customer service is still our number one priority. In fact, our merchant support team is FOUR TIMES the size of our sales team! We don't believe in hold queues either, so you'll never have to wait in line. When you're with Host Merchant Services, you'll get first-class treatment!