Juniper Research analytics estimates two billion people will use mobile banking by 2020. Already outnumbering desktop connections, mobile users' first banking experience is via a mobile device in developing countries. 
While dealing with complex regulatory compliance, banks are also charged with creating a more secure authentication system for their mobile banking security. In an ever-changing mobile environment, both banks and merchants are bending to customers, offering the convenience and speed mobile banking can provide. 
Here are the top mobile payment trends for 2020:
1. Mobile Point of Sale
With mobile swipe readers at farmer's markets and coffee shops, mobile point of sale (mPOS) is growing increasingly popular. Meeting customers where they are, businesses can use mPOS to check out a customer in a decentralized manner – at their table or in the dressing room.
2. Mobile Wallets
Offering convenience, speed, and security, mobile wallets are one of the fastest growing trends in the technology of mobile payments. Accounting for $75 billion in 2016, mobile payments are predicted to hit $500 billion in 2020, making for an annual growth rate of 80% over a five year period.
3. Touchless Transactions
Contactless payment liberates consumers from cards and the associated technology limitations of swiping and inserting. With Apple, Google, and Samsung providing avenues of touchless payments, consumers are embracing the convenience, as well as the security, of NFC (near field communication).
4. Social Media Commerce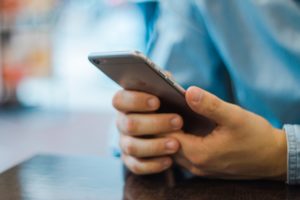 Rather than redirecting a potential customer to a separate site, social media apps like Facebook allow buyers to click "shop now" and make purchases within the same app. Mobile payment processing technology integration with social media requires a flexible and dynamic processor to provide this convenience. Autofill coupled with chatbot checkout expedite the mobile commerce transaction, allowing shoppers to shop where they're already looking.
5. Biometric Authentication
Mobile devices are using biometrics, including facial recognition, fingerprints, and retinal/iris scan, to authenticate a transaction, as well as to confirm identification. Combating fraud and identity theft, biometric authentication will grow to be a more reliable method for merchants to verify identity.
6. Artificial Intelligence
Amazon's Alexa is the trailblazer for the future of voice-activated orders and payments for merchandise. Accommodating AI on their sites, merchants can leverage AI not only to sell merchandise but to also detect fraud.
Host Merchant Services
Host Merchant Services offers state-of-the-art POS systems personalized for your business. From retail to restaurants and everything in between, HMS provides businesses the tools they need to be successful. For payment processing, HMS can help your business accept all credit and debit cards with the lowest transaction rates on the market. We are able to retain customers with our low rates and excellent customer service – not our contracts. With 24 hour customer service, seven days a week and 365 days a year, we require no term commitment, and we charge no upfront fees or hidden fees. Nor do we charge application or setup fees. An industry leader, Host Merchant Services is always here for you.