Because restaurants operate on thin profit margins, restaurateurs must leverage every payment type to attract every type of customer while simultaneously leveraging the support of their credit card processor. Business owners don't have time to waste on deciphering complex credit card processing fees during their monthly reconciliation. Nor do they have the luxury of refusing payment types in the digital age when customers are trying out every new payment trend available. Restaurants must weigh several factors in choosing a merchant service provider.
Great Customer Service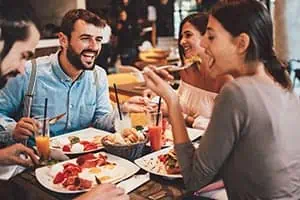 The owners and employees of restaurants are in the business of customer service. Their priority is creating the best dining experience possible for their clientele. They can't be bogged down with complicated point of sale technology that slows the process and frustrates the end user. If they do experience technical challenges, they need support pronto in a 24-hour business cycle.
Knowledgeable Point of Sale Support
Restaurants have unique business needs regarding their credit card processor. In addition to round-the-clock support, a business needs restaurant merchant services that offer solutions that fit various business models. Depending on the restaurant, point of sale solutions may need to accommodate both a traditional style of service, as well as catering service and beyond, including mobile flexibility to allow a restaurant to meet the customers in multiple locations under a variety of circumstances.
Point of Sale Options
A restaurant needs a payment processor that can synchronize current processing systems with their solutions or provide a whole new solution to fit the restaurant's circumstances. Keeping both security and convenience in mind, restaurants need a merchant service provider that can help the business to accommodate as many customers as possible in a secure fashion while also making transactions easy for restaurant owners and staff.
Low Rates & Transparent Pricing
And while customer service, ease of use, and processing simplification are ideal goals for a restaurant, none of it matters if the cost eats into the restaurant's profits. Restaurants need a merchant service provider that offers interchange plus pricing, the pricing model merchants can rely on to offer the lowest cost interchange fees on the market. With a low markup over the wholesale cost, the interchange plus pricing model provides flexibility in equipment and payment options while keeping costs as low as possible.
Host Merchant Services: What Your Restaurant Needs in a Payment Processor
HMS provides customer support for restaurant credit card processing 24 hours a day, 7 days a week, 365 days a year. We know we need to work as much as you do to properly support an industry that can operate nearly 24 hours a day. That's why we have operators standing by to answer your call any time of day.
HMS also explains how payment processing works. Providing a comprehensive package including credit card processing and financial transaction services to restaurants, we will custom design a flexible credit card processing solution to fit the needs of your restaurant.
And when we do demonstrate your payment processing scenario selections, HMS also offers your restaurant several point of sale options, including Clover, Vital, Bonsai, SwipeSimple, and more to fit your specific operation. If your restaurant is already equipped with hardware, HMS provides an easy point of sale integration.
Whether you need an entirely new point of sale system or a solution for your current system, HMS offers a suite of services to suit your restaurant's needs. From wireless equipment, payment by check, recurring billing, to online payment gateways, HMS has everything a restaurant needs for serving customers in both traditional sit-down establishments and catering services.
With our low rate guarantee, HMS provides a Free Rate Analysis to show where you can save on your restaurant payment processing. If HMS can't save your restaurant money, we will give you a $50 Gift Card. The best pricing model on the payment processing market, Interchange Plus Pricing will help your restaurant's bottom line.
Host Merchant Services will even provide your restaurant free equipment via our free equipment program to qualified merchants along with receipt paper at wholesale prices. We are your restaurant's credit card processing solution.
Frequently Asked Questions
What factors should I consider when choosing a credit card processor for my restaurant?

When selecting a credit card processor for your restaurant, consider factors such as transaction fees, processing rates, contract terms, and equipment compatibility. It's also important to assess the processor's reliability, customer support, and security features. Ensure that the processor can handle the volume of transactions your restaurant typically processes and offers features like tip adjustments and split payments to accommodate your needs.

How do transaction fees and processing rates impact my restaurant's profitability?

Transaction fees and processing rates can significantly affect your restaurant's bottom line. Higher fees or rates can eat into your profits, especially if you have a high volume of credit card transactions. Compare the fee structures of different processors, including flat-rate pricing, interchange-plus pricing, or tiered pricing, to determine the most cost-effective option for your restaurant's transaction volume and average ticket size.

What should I look for in terms of contract terms and hidden fees?

Carefully review the contract terms and conditions offered by credit card processors. Look for transparent and flexible contract terms without long-term commitments or early termination fees. Be cautious of any hidden fees, such as statement fees, PCI compliance fees, or monthly minimums, as these can add up over time and impact your restaurant's profitability.

How important is equipment compatibility for my restaurant's credit card processing?

Equipment compatibility is crucial for smooth credit card processing in your restaurant. Ensure that the processor's hardware and software options integrate seamlessly with your point-of-sale (POS) system. Consider whether you prefer traditional countertop terminals, mobile card readers, or online payment gateways. Assess compatibility with contactless payment methods like NFC and digital wallets, which are increasingly popular among customers.

What role does customer support and security play in selecting a credit card processor?

Customer support and security are vital considerations when choosing a credit card processor. Look for processors that offer 24/7 customer support to address any technical issues promptly. Additionally, processors that prioritize data security, comply with Payment Card Industry Data Security Standard (PCI DSS), and provide advanced fraud protection measures. Protecting your customers' payment information is essential for maintaining trust and avoiding potential liabilities.