In a not at all surprising turn of events, Kroger has decided to cease their ban on Visa payments across all of their 130 Smith's Food & Drug stores.
Why the Ban?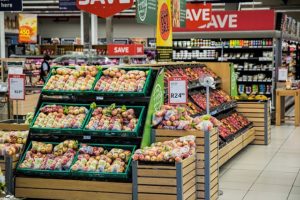 Earlier this year, after slamming Visa's transaction fees, Kroger decided to take action against Visa. Saying that they'll "drive up food prices for all customers" and calling them "excessive," they subsequently banned all Visa payments at all of their California stores, before bringing in a total ban across all 130 of their Smith's Food & Drug stores located around the country.
Kroger CFO Mike Schlotman said when asked to comment earlier this year, "Visa has been misusing its position and charging retailers excessive fees for a long time. They conceal from customers what Visa and its banks charge retailers to accept Visa credit cards. At Smith's, Visa's credit card fees are higher than any other credit card brand that we accept," and then went on to instigate the ban.
According to Visa, when asked to comment on the situation, "It is unfair and disappointing that Kroger is putting shoppers in the middle of a business dispute."
Kroger Remains Quiet About the Reversal
Now, in spite of their reasoning for the ban on accepting Visa payments, Kroger has decided to reverse the ban, and will be accepting Visa credit cards at all of their locations across the country according to a Kroger spokeswoman. This includes chains such as Kroger, Fry's, Dillon's, Ralphs, Harris Teeter, and all other Kroger owned chains.
There has been no comment by Kroger or their spokespeople as to the reasons behind the ban's reversal, nor has there been any response from Visa.
Earlier this year, shortly following the introduction of the Visa ban, Kroger went on to launch its mobile payment app Kroger Pay. Kroger Pay is a smartphone-based payment system that combines both a customer's payment information with the company's loyalty card with an aim to speeding up checkout times.
The company also launched a Kroger Rewards debit card, with Kroger Personal Finance CEO and corporate strategy integration lead Gary Millerchip saying "Kroger is redefining the customer experience by creating innovative ways to pay at our stores and online."