Today we enter the realm of mobile payments again for this edition of the Official Merchant Services Blog, as we look at the newest company to enter the already crowded playing field. Daily-deal giant Groupon, Inc. announced the creation of Groupon Payments in late September, a service that will allow merchants to accept credit and debit cards using Apple Inc.'s iPhone or iPod touch.
Groupon is attempting to leverage its existing loyalty services for merchants, and claims to have low card-acceptance prices. The service provides a free card swiper made by Roam Data that plugs into the Apple devices' audio jacks, or a $100 wrap-around case from Infinite Peripherals for merchants that expect heavier usage.
Merchants who want use Groupon Payments will be charged fees of 2.2% for Visa, MasterCard and Discover transactions plus 15 cents, and 3% and 15 cents for American Express. If a merchant has ever offered a Groupon deal before or has committed to doing one in the future they are eligible for a discount rate for swiped transactions of 1.8% plus 15 cents for Visa-MasterCard-Discover transactions, and 3.0% plus 15 cents for AmEx sales. Groupon also will charge more for keyed, or card-not-present transactions, with rates starting at 2.3% and 15 cents for Visa-MasterCard-Discover and 3.5% and 15 cents for AmEx.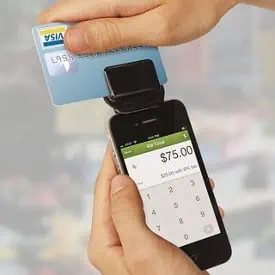 Groupon is one of the leaders among the national daily-deal offering websites. Senior analyst Rick Oglesby of Boston-based Aite Group LLC said of the program, "Overall, I think it all makes sense. Groupon brings on a tremendous amount of value to merchants due to the volume of eyeballs they attract."
The numbers appear to back that claim up, the company offers a host of other services that reinforce customer loyalty to merchants, including featured daily deals, deals from national merchants, and Groupon Now! a system for instant offerings available online and through mobile devices. With 250,000 merchant relationships worldwide, the company refused to disclose it's U.S. merchant count. In terms of customer base, a Groupon investment filing shows they had 36.9 million active consumer customers in the first quarter alone.
Groupon's program is not without downfalls however; one seems to be the risk of slowing the growth of merchants willing to offer heavily discounted deals. The service is currently available only for Apple devices, and the company hasn't specified if it will cater to Android phones in the future. Also, it is worth noting that the company does not mention a length of contract or if other fees are involved, including possible termination fees for the service, usually a troublesome sign.
The part of this that I find the most interesting, is that Groupon decided to shun the existing mobile payments companies and create another. Many retailers have made strategic decisions to partner up with mobile payments processors as they see the emerging mobile payments sector as lucrative. Groupon Payments may develop into serious competition for Square Inc., Intuit Inc.'s GoPayment Service, and PayPal.