Today the Official Merchant Services Blog is focused on the Delaware Auto Show.  The exhibit is back again this year, kicking off today at the Chase Center on the Riverfront (815 Justison St., Wilmington).  Delaware's show is the first in the region to preview 2013 models, and runs from 10 a.m. to 6 p.m. today, Saturday from 10 a.m. to 8 p.m., and Sunday from 10 a.m. to 6 p.m.
Car enthusiasts will have plenty to look at, with 200 cars from 70 local dealers and show cars including a 1912 Stanley Touring Model 87 Steam Car, a Fisker Karma, a few Porsches, and others. Also attending the event is Bear chef Dana Herbert, "The Next Great Baker" winner, who will be on hand to showcase his life-sized Fiat car cake. Other forms of entertainment include celebrity autograph signings by two former Philadelphia Eagles and Phillies outfielder John Mayberry, Jr as well as photo-ops with favorite local area mascots including the Eagles' Swoop, the Oriole and Rocky Bluewinkle.
HMS Customers Attending:
Some Host Merchant Services' customers will be attending the event as well. Barry's Events will be on hand, facilitating the ticket system through which attendees will purchase food.  If you want food from a vendor there, simply see someone at the Barry's Events tent, purchase a ticket, and bring your ticket to the corresponding food vendor. One such vendor, is another HMS merchant, Hot Sausage King.  Be sure to stop by and try some of the great food there!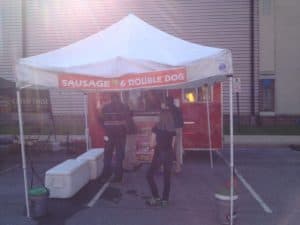 If you're a real gear head, be sure to stop by the Nemesis Autosport tent, another of Host Merchant Services' customers.  The company is located in Wilmington and provides exceptional service and aftermarket/OEM tuning parts for European and exotic vehicles. Nemesis will be in attendance for all three days of the event, and one of the cars they will be showing off is their custom 2008 Audi S5 6MT (pictured below).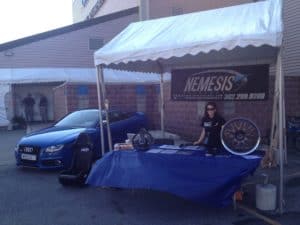 Admission is $10 for adults, and free for children 10 and under. Today only, admission is half-price for seniors, students and military personnel. You can buy tickets at the door or at www.delawareuatoshow.com for the event.