It's here. It's really finally here.
Mobile Payments are available in Delaware.
Barclaycard Mobile Wallet is an active program that participating merchants at the waterfront in Wilmington, DE, and along Main Street in Newark, are using. Right now you can use your phone to buy stuff!
For Me, This is Big
Normally I try to maintain some composure and tact when scribing The Official Merchant Services Blog but I'm a little too excited to keep calm. Mobile Payment Processing — as I noted in my last blog entry about how long it was taking Near Field Communication to get here — is a topic I've been fascinated with my entire time working in this industry. And I've reported how each new take on the technology has been inching forward, how the pieces are in place for X, Y or Z to finally break through and for U.S. consumers to be able to start waving their phones around like lightsabers, cha-chinging their way through purchases.
Got the Ball Rollin'
For the most part it's been tiny test markets using the things that are active — test markets nowhere near me or my shopping stomping grounds. And then there's been other technology riddled with delays. And then there's been discussions about security issues. It just seemed like this crazy new purchasing power was not going to come to a store near me anytime soon. The Magic 8-Ball Blog I wrote back on October 18, 2011 seemed to have encapsulated the entire issue.
Me: When will Mobile Payments get here?

Magic 8-Ball: Ask Again Later.
Argh!
And even just the other day I was stuck in the same morass of Mobile Payments taking too long to get going, as I reviewed the status of NFC and looked at Isis getting ready to finally hit test markets — in Utah and Texas.
Then I found out about Barclaycard and their Mobile Wallet. It's here. It's live. It's working in the areas where I shop.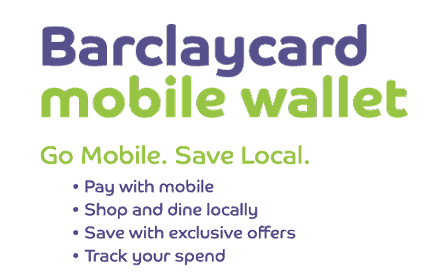 So Let's Get Started
All I had to do was sign up and start trying this technology out. This blog is as close as I will probably get to real-time reporting on the Credit Card Processing Industry. I'm going through the steps to acquire this purchasing power right now. Here's what I'm doing:
Step 1: Visit this site and register for an account. This is key. You can't just download the app and go. You need to register online first. Since you're here online reading this blog, you can take a moment to click that link and get that out of the way.
Step 2: You go through the process of setting up an account. Choose a username, password, give  your information.
Step 3: You add the card you want the wallet to charge.
Step 4: You can then download the app from the app store or google play store.
Step 5: Activate the app on your phone, and go through the log in process. You'll be asked for your passcode, and to log in with your username and password, and even one of the additional security questions. But then you go to …
Step 6: BOOM! Start buying stuff!
Now Where do I go to Buy Stuff?
I now wanted to witness the firepower of this fully armed and operational battle station … I mean Mobile Wallet. Here's a list of participating merchants:
Newark
SAS Cupcakes
MainStream Nutrition
Switch Skateboarding
National 5 and 10
Caffe Gelato
Coming Soon to Newark:
Gecko Fashions*
Over Easy*
Moxie Boutique*
Cosi*
Wilmington:
Al's Sporting Goods
Harry's Fish Market & Grill
Dryrock Café
Veritas
FireStone
eeffoc's
Water Street Deli
Olde World Cheese Steak Factory
Cosi
Bella Vista Pizzeria
Zaikka Indian Grill
Riverfront Produce
Harry's Seafood
Extreme Pizza
But Wait, There's More!
This is more than just a way to buy things with your phone instead of your wallet. This program is a combination of sales promotion and mobile payment power. Now that I'm signed up and active, I will be able to pay with mobile and receive special offers from local merchants. That's the added value — merchants who participate in this mobile wallet community will be able to offer me deals and specials. Think of it like this: It's a mobile wallet with a built in groupon. It's merging the best aspects of QR-Code technology and consumer convenience.
The app functions off of the QR-Code technology that we've discussed multiple times in the past. This technology was already ahead of other options as it had been harnessed for marketing purposes in the previous few years. In fact, it's the one mobile payment option I've already had the good fortune of experiencing back in May through Fandango. These mobile payment solutions are generally pretty straightforward. They usually consist of an application on a merchant's device that allows them to scan a barcode, or a QR Code. The QR Code scanning is becoming extremely popular, giving companies the ability to run marketing promotions as well as purchases through the use of the QR Code and its ability to capture information. Fandango's Mobile Ticket program allows you to purchase your movie ticket through their application and then just scan the QR Code they send to your device when you arrive at the theater. This program has been gaining increased success and popularity this summer, and as we reported, set record highs for the company with the release of the blockbuster Avengers Movie.
What Barclaycard is doing is in-line with this description. You will use QR Codes to make purchases with your phone. But the app also seamlessly fuses the marketing power into the experience. As a Barclaycard Mobile Wallet user, I have access to exclusive offers available and redeemable only through the wallet. Offers will update at least once a week. I currently have no offers, but I just signed up 10 minutes ago so I will have to check back.