Today the Official Merchant Services Blog will investigate the more than $200 million dollar fine that the U.S. Government issued on Discover Bank. The Federal Deposit Insurance Corp. (FDIC) and Consumer Finance Protection Bureau (CFPB) have ordered Discover to refund approximately $200 million to more than 3.5 million of its customers, as well as pay a $14 million civil penalty to the government. The order comes after the FDIC began investigating Discover last year for deceptive telemarketing practices and sales tactics used to sell consumers various credit card products, such as payment protection, credit score tracking, identity theft and wallet protection.
Consumers reported that these telemarketers would downplay key words during the calls and also used scripts that misled the customer about whether they would actually be paying for the product.  Some Discover customers thought the products were free because of the use of such words as "benefits."
Some consumers asked for reading material on the products before purchasing them, however they found themselves being billed for the products before receiving the materials.  Some customers were even fully enrolled in the programs without permission, according to the FDIC and the CFPB.
The telemarketers also did not disclose eligibility requirements for certain payment protection benefits, such as exclusions for pre-existing medical conditions and certain employment limitations. Discover is not only required to pay the refunds and civil penalty, but also must make changes to its telemarketing strategies for the products involved.  The company must submit a compliance plan to the CFPB and FDIC for approval.
"Discover has worked hard over the past decade or so to reinvent its brand into one of a first class credit card," David Johnson, principal with Strategic Vision, (Discover's PR Company) told CRM Buyer. "This is not something consumers are likely to forget. It will become part of the Discover narrative."
Unfortunately for Discover, I'm inclined to agree. This is not a story that is going to go away any time soon and we will be on top of any updates or appeals. While on the topic of Discover however, I find it necessary to remind our reader base and all merchants that the 'Add Discover On Discover' program is ending in the coming months, and you should know when you will start being charged for the service.  The program started back in 2011, and offered free Discover card processing to customers who could show they had not taken Discover cards for at least six months.  In this way, the program really targeted non-Discover Card merchants and was a strong effort to increase the usage of Discover in retail outlets.
Here's a quick reference chart for the schedule: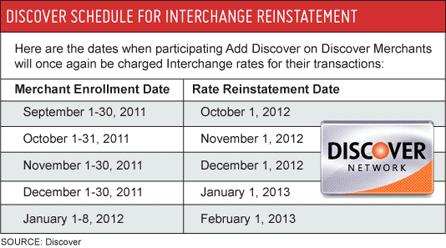 Host Merchant Services continues to adhere to its customer service philosophy of transparency and education. We do not want any merchants confused or unaware of the fees they are charged on their statements. If you have any questions about this program or Interchange and its rates, please contact us.