Today the Official Merchant Services Blog will take a look at the role Mobile Payments played in the 2012 London Olympic Games.
Visa, the official Payment Payment provider of the Olympics pushed for Mobile Payment Technology as a safe and convenient payment option for consumers throughout the London games. Jim McCarthy, Head of Products at Visa Inc., said "This summer we will be demonstrating the future of payments in London – a future where most consumers will rely on mobile devices, tablets and PCs to manage their daily financial lives."
As a part of Visa's Olympics marketing push for the future of Mobile, a limited edition Samsung Galaxy S III was provided to some Visa sponsored athletes and trialists. The device featured an Olympic-branded version of Visa's mobile payment application, Visa payWave which uses Near Field Communication technology, or NFC. To make purchases, consumers simply needed to select the Visa icon on the Samsung device and hold the phone to a contactless payment terminal to pay.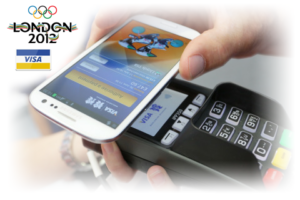 It seemed as though Visa had all the pieces in place to make this Olympics a Mobile Payments success; a dominant payment network, including Visa only ATMs positioned throughout the games, NFC-enabled vendors able to take the mobile payments, and spectators with smart phones who could pay via mobile. The only problem was competing against an Olympic veteran of every games, cash.
During Great Britain's Men's Soccer match versus the United Arab Emirates, spectators were unable to pay for food and drinks at Wembley Stadium by credit card or mobile payment after terminals went down.  Many ticket holders described the lines that subsequently built up as ridiculous and said a lack of cash machines at the west London ground added to the problem.
A spokesman for Visa was quick to point the finger at Wembley officials, placing the blame firmly on the stadium's network infrastructure saying, "We understand that Wembley's systems failed and therefore they were only accepting cash at the food and beverage kiosks."
Twitter was bombarded with thousands of angry posts from people who found it completely unacceptable that they couldn't feed themselves. This was due to the fact that the only available way to pay was with old-fashioned cash and coins, a means of payments Visa wanted to push away from with its mobile payment implementation.
In these games, mobile payments did not expand as much as Visa had anticipated.  Add that to the complete network failure at Wembley Stadium and it would seem that mobile payments were a flop at this year's Olympic Games.  The silver lining however, is that mobile payments did have a huge presence at the games.  And the uproar caused by the network failure seems to prove that we are moving away from cash as a society.  Just a few years ago, credit card terminals going down at the Olympics might not have been such a big story, let alone a trending topic on Twitter.  It seems for the London Olympic Games, cash took the gold medal yet again in payments, but with the doubling of Mobile users here in the U.S. and the increase globally; cash may soon be unseated by mobile payments.