Today the Official Merchant Services Blog is bringing you a breaking news update for a program we hyped and ballyhooed back in 2011: The Add Discover on Discover Plan. Merchants who were enrolled in the program will begin to come off of it starting on September 1, 2012, forcing them to once again pay interchange rates and fees.
This bold Discover on Discover initiative taken up by the credit card company and Host Merchant Services offered an exclusive deal merchants: a year of being able to process Discover payments at no cost.
To qualify for that amazing offer, merchants had to show Discover that they did not process any Discover Card transactions in the six months prior to enrollment. So the deal really targeted non-Discover Card merchants and was a strong effort to increase the usage of Discover in retail outlets.
Sadly that time is now at an end. The initial sign up period for the program was from September 1, 2011 to December 31, 2011. Discover is now going to slowly reinstate Interchange rates for the merchants in the program on a schedule slated to run from September 1, 2012 through January 1, 2013. Since the original disclosure of the program (and its duration) was included with the merchant's enrollment, no statement messages will be sent out — hence why it's our breaking news alert today.
Here's a quick reference chart for the schedule: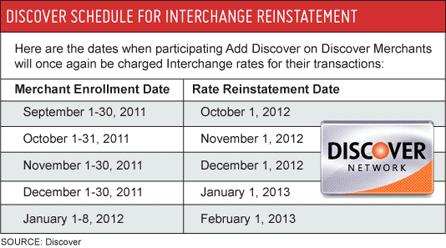 Host Merchant Services continues to adhere to its customer service philosophy of transparency and education. We do not want any merchants confused or unaware of the fees they are charged on their statements. If you have any questions about this program or Interchange and its rates, please contact us.