The Official Merchant Services Blog wants to alert its readers to a new fraudulent phishing e-mail scam that is going around the internet. Authorize.net, one of the leading providers of payment gateway services, has received reports that an e-mail is being sent to merchants. The e-mail claims to be from Authorize.net, but is actually a phishing attempt by an unknown source. If you receive an e-mail with the subject line "Successful Credit Card Settlement Report," and the e-mail does not include your Gateway ID or Reseller ID, please disregard this e-mail and do not click on any of the links provided. It is not from Authorize.net. It is fraud.
Here is a copy of what this fraudulent e-mail scam may look like in your inbox: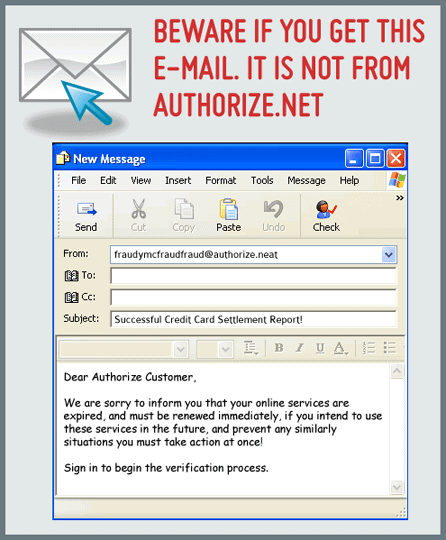 Remember, do NOT respond to this or click any links provided in this scam e-mail. You can visit Authorize.net's fraud resources here. But if you or someone working for you may have inadvertently responded to, or clicked a link, in this fraudulent e-mail, please contact us at Host Merchant Services for guidance on how to secure your account.
About Authorize.net: Authorize.net has been a leading provider of payment gateway services since 1996, managing the submission of billions of transactions to the processing networks on behalf of merchant customers. Authorize.net is a solution of CyberSource Corporation, a wholly owned subsidiary of Visa. Authorize.net enables merchants to authorize, settle and manage credit card and electronic check transactions via Web sites, retail stores, MO/TO cell centers and mobile devices.