This is the latest installment in The Official Merchant Services Blog's Knowledge Base effort. Well we want to make the payment processing industry's terms and buzzwords clear. We want to remove any and all confusion merchants might have about how the industry works. Host Merchant Services promises: the company delivers personal service and clarity. So we're going to take some time to explain how everything works. This ongoing series is where we define industry related terms and slowly build up a knowledge base and as we get more and more of these completed, we'll collect them in our resource archive for quick and easy access. Building off of our recent foray into Mobile Payment Technology, today's term is Near FIeld Communication (NFC).
Near Field Communication (NFC)
Near Field Communication, or NFC, is a short-range high frequency wireless communication technology which enables the exchange of data between devices with a touch. This touch capability allows for sharing, pairing, and transaction capability between the NFC devices. A smartphone or tablet that is NFC capable can be used as a keycard or an ID card. The same device can also be used to make credit card payments.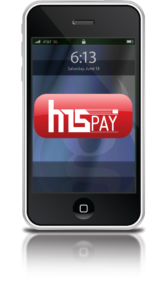 NFC builds upon Radio-frequency identification (RFID) systems by allowing two-way communication between endpoints, where earlier systems such as contactless smart cards were one-way only. Since unpowered NFC "tags" can also be read by NFC devices, it is also capable of replacing earlier one-way applications.
This technology is being embraced by some major companies in the e-commerce industry for its ability to process credit card transactions. PayPal purchased Zong for just that reason. Visa invested heavily in mobile payments, as seen by their marketing plans for the 2012 Olympics. Google is making its Google Wallet and Google+ beta work toward that same vision of mobile payments made through NFC-based touch technology. And, as reported by Mashable, American Express's Serve platform actually does support Visa, Mastercard, Discover, debit cards and other types of accounts.