HostingCon2012 is in full swing, and Host Merchant Services is in the thick of the action. Here's a picture from today: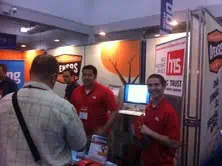 That's our very own dynamic duo Ken and Justin Hemmel working the booth with our partner OpenSRS.
This partnership — which began in April — brings Host Merchant Services, the premier provider of payment processing and e-commerce services for small businesses and medium businesses, to OpenSRS Offers, the platform that allows OpenSRS Resellers to extend valuable third-party offers and discounts to their customers.
The partnership is bolstered by HMS' experience with the web hosting industry and HostingCon is a perfect venue for the company to present its ongoing initiative to provide E-Commerce focused companies a robust solution for processing credit cards online.
"We don't write a business off as high risk just because it sells its products or services online," says Host Merchant Services CEO Lou Honick. "HMS understands the needs of e-commerce merchants and works tirelessly to provide them with the right services at the best possible rate."
Also, don't forget that  Honick will participate in a panel discussion on the topic of Best Practices for Payment Processing at 9 a.m. on Wednesday July 18. The panel offers hosting providers tactics for reducing payment processing costs and reducing risk. Honick is part of a panel of payment processing industry experts addressing the conference.