Host Merchant Services wants to take a quick moment to remind readers of The Official Merchant Services Blog, as well as its own merchants of a change that took place in 2011 with Hypercom — the company that manufactures one of the most popular brands of point of sale terminals that HMS provides.
In October, 2011 it was announced that Hypercom USA formally changed its corporate name to Equinox Payments, LLC. In addition to selling new Equinox terminals, software and services, the company continues to support the very popular Hypercom-branded products in the U.S.
Hypercom US was sold to private equity firm The Gores Group in August 2011 as part of a deal to allay competition concerns when Verifone acquired the rest of Hypercom's global business.
Former Hypercom product names have remained unchanged, but products are now showing up in marketing materials as branded Equinox or co-branded Equinox and Hypercom. Equinox says they will maintain the Hypercom brand for an extended period of time to reinforce Equinox's continued support of Hypercom-branded products and services. So it's been a slow evolution, which is why HMS is offering this reminder. We wish to clear up any confusion with our merchants regarding Hypercom and Equinox due to the popularity of the T4205 Hypercom terminal among our various customers.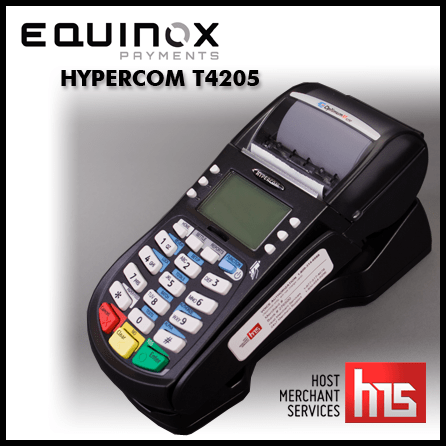 The Companies Involved
Equinox Payments, headquartered in Scottsdale, Arizona, is a leading payment terminal manufacturer and related secure software provider. Through its commercial offices in the United States, Latvia, Manila and Australia, and a service repair facility in Mexico, Equinox's more than 200 employees deliver secure payment terminals, applications and services to hundreds of thousands of merchants. Equinox is a portfolio company of The Gores Group, LLC.
The Gores Group, LLC is a private equity firm focused on acquiring controlling interests in mature and growing businesses which can benefit from the firm's operating experience and flexible capital base. The firm combines the operational expertise and detailed due diligence capabilities of a strategic buyer with the seasoned M&A team of a traditional financial buyer. The Gores Group, which was founded in 1987 by Alec E. Gores, has become a leading investor having demonstrated over time a reliable track record of creating substantial value in its portfolio companies alongside management. The firm's current private equity fund has committed equity capital of more than $4 billion. Headquartered in Los Angeles, The Gores Group maintains offices in Boulder, CO, and London.