Today The Official Merchant Services Blog is playing a bit of catch up. The story we're going to highlight and discuss is almost three weeks old. It was intended to run earlier, but technical difficulties with the blog's production kept it from appearing until now. However, we feel the story is still worth some attention due to the issue it highlights about the payment processing industry.
The story comes to us from a Chicago, IL section of the Better Business Bureau (BBB). This article from the BBB says that the organization has seen a 42% rise in complaints against credit card processing services. The article, which originally was posted by the BBB on December 15 found that complaints were up for the 12 month period in 2011 compared to the previous 12 months. The breakdown was specifically 110 complaints in the recent 12 month period versus  77 complaints in the period prior.
Not Just In Chicago
The complaints aren't just lodged in Chicago. This article from Fox40.com details similar complaints in Sacramento, CA. The article states: "The Better Business Bureau is warning businesses to beware of sales pitches by credit card processors that don't reveal key details that could end up costing business owners more than they bargained for."
And it quotes Caitlin Peterson of the Better Business Bureau of Northern California as saying "We've had over 1,700 complaints this year against the merchant processing business."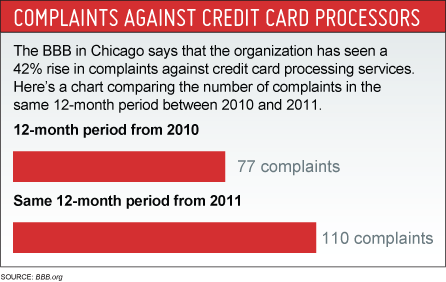 What the Problem Is
From reading through the two articles — as well as an older BBB article about issues in the St. Louis, MO area — the problems that merchants are encountering are really straightforward. Business owners are being approached by salespeople offering big savings on their payment processing. And then once the merchant signs a contract with that person, they are saddled with hidden fees for services they were not told about. In short, the business owner is led to believe they are getting a great deal but end up having to pay out more because of all the things not mentioned in the deal. So complaints against payment processors rise in select areas.
Pricing and Transparency
This type of behavior is the exact reason Host Merchant Services utilizes its philosophy of Interchange Plus pricing and no hidden fees. These types of issues are why CEO Lou Honick says "Host Merchant Services is about bringing trust to the payment industry."
"Payment processing is confusing," says Honick, noting the ease in which merchants can get saddled with the types of issues that have cropped up with the BBB complaints. "The big guys make it difficult to understand exactly what your rate is and what fees are associated with accepting credit cards. We deliver personal service and clarity. Our people care about customer service and will take the time to explain how everything works."
Honick also cites the process that Host Merchant Services uses to directly counter the problems that business owners encounter with other processors: "We believe that when you get your statement every month, you should understand every item, and it should match what you were promised in the sales process. If you have a question, there is a live person at Host Merchant Services ready to assist you."
The Details
One of the primary ways Host Merchant Services combats the practices that lead to these complaints is with their pricing structure. Host Merchant Services uses Interchange Plus pricing instead of the more standard tiered pricing format. Interchange Plus makes statements easier to read, customer service easier to provide to merchants, and savings much easier to guarantee. Here's a small graphic explaining the basics of how Interchange Plus works: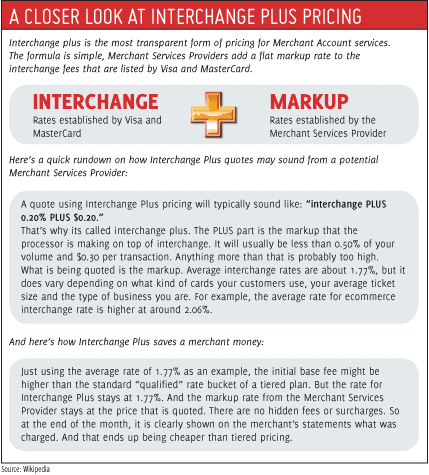 You can review a comparison between Host Merchant Services Interchange Plus pricing — which is simple and transparent — and the tiered pricing plans that other processors use in a two-part blog series that The Official Merchant Services Blog ran in October, 2011.
What the BBB Advises
The BBB advises merchants take these steps to avoid getting stuck with the issues that their complainants have encountered:
Ask around. The BBB suggests getting at least three estimates from different Payment Network Providers and to checkout he BBB Business Review of the merchant processing service. They also suggest asking fellow business leaders for referrals.
Know where to turn. The BBB advises you check up on the support team that a potential Merchant Services Provider offers you. Can you contact them 24 hours a day? What is their response like outside of typical business hours? And the BBB advises you make sure their technical support can handle your needs as that kind of support is vital to your business' success.
Try them out. The BBB says that you should not settle without a trial period. You should make sure that the payment processor you choose has a 100 percent money-back guarantee before selecting them. Make sure their service works for you, and make sure they keep their promises to you.
Don't get locked in to a long term contract. The BBB is very clear on this. Never commit to a long term agreement that locks you in. Make the merchant services provider earn your business each and every month.
Get references. The BBB advises that you get the payment processor to provide you with references. And then suggests you spend some time checking up on those references.
Make sure you know what you're being charged for. The BBB says that if you have a question regarding a fee that you were charged, ask the merchant services provider. Don't let them hide fees on you. Make sure you understand your statement.
How Host Merchant Services Stacks Up 
Host Merchant Services falls in line with what the BBB advises merchants to do. The company places a big emphasis on transparency. Their salespeople will explain a merchant's statement in detail. One of strengths of the offering from Host Merchant Service is their guarantee to save a merchant money. They achieve this by a statement analysis. Not only will Host Merchant Services explain the details of what your statement and fees are, completely transparent, while you process with them, they'll also explain where the hidden fees are with your current statement.
Host Merchant Services will provide references. They do not lock you in to a contract. They do not charge you a termination fee. They provide free equipment and free paper for your terminals. And they offer 24-7-365 customer service where they guarantee you will talk to a real person that will help you out with your issues. You can even initiate a live chat with HMS Support right from any page on their web site.
As Host Merchant Services COO Dan Honick says, "You stay with us because you're happy."