In what will likely be the last blog of 2011, The Official Merchant Services Blog is going right back to the basics. We're going to give our readers a recap of a story that's been the buzz of the internet for the past couple of days and which illustrates why customer service is so very very important for a business — good old fashioned and extremely basic customer service.
The Story, So Far
Penny Arcade, an extremely popular webcomic focused on video games and video game culture, written by Jerry Holkins and illustrated by Mike Krahulik, also has a regular blog. On that blog artist Krahulik posted the entire transcript of a dialog between a customer– named only as "Dave" in the coverage of the event — and the marketing/customer service person representing the Avenger Controller. This device was originally designed by David Kotkin, an art teacher, to help one of his pupils, who suffered from epidermolysis bullosa, to play games for prolonged periods without irritation.
You can read the entire transcript of the dialog at Penny Arcade here.
The recap is pretty simple. Dave went through the contact information given on the web for the product, and asked their customer service department when the product would arrive because it was late. The controller was advertised as being available in early December, and by December 16, Dave had not received the item that he had paid for in advance.
As seen in the transcript, the initial responses from Paul Christoforo of Ocean Marketing, the PR contact for iControl (the manufacturers and distributors of Kotkin's design), were short and still vague. But then tempers flared, and Christoforo stepped over the line, attacking his own customer: "put on your big boy hat and wait it out like everyone else. The benefit is a token of our appreaciation for everyone no one is special including you or any first time buyer . Feel free to cancel we need the units were back ordered 11,000 units so your 2 will be gone fast. Maybe I'll put them on eBay for 150.00 myself. Have a good day Dan."
That sparked the entire fiasco. Christoforo continued to be rude and flippant in correspondence with Dave, as well as others, including Krahulik.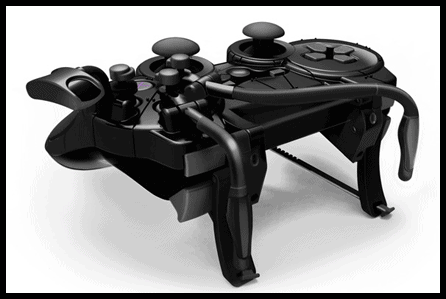 The Internet Intervenes
Christoforo was nonplussed by Dave's contacts in the e-mails. Even when Krahulik himself got involved, Christoforo did not believe Krahulik was who he said he was, and laughed at the idea that this negative publicity was going to impact his marketing. The conversation sort of soars from that point as Christoforo has it out with Krahulik. Christoforo threatens to initiate a smear campaign against the comic strip and Krahulik just posts the entirety of the e-mails, along with Christoforo's information. With battle lines drawn, and sides chosen, the internet steps in — since Penny Arcade is indeed a very widely read web comic, it gets a lot of attention, especially from gamers who would all be potential customers for the product Christoforo is marketing.
First Round Knockout
The results of the smear campaign vs. Krahulik's blog post and eventual comic strip?
So in essence, the internet retorted against the terrible customer service offered by Ocean Marketing and Paul Christoforo. The smear campaign he threatened against Penny Arcade never got off the ground. Ocean Marketing got slammed by a legion of video game players and Penny Arcade fans. Bad PR ruined Christoforo's marketing business in mere days.
Captain Obvious to the Rescue
Without going too deep into the details of this internet battle between the forces of good gamers and misguided or misanthropic marketers — you can follow the fascinating set of links as this story is still picking up steam — Host Merchant Services is just going to cut to the chase.
Customer Service is a vital component of a business. Any business. That includes those doing marketing for video game controllers.
Host Merchant Services has provided some tips in the past on how to get into good customer service habits. You can read the blog post here. Customer Service is part of the core philosophy of Host Merchant Services. You can read CEO Lou Honick's blog about customer service at the Web Host Industry Review here. It's just The Official Merchant Services Blog didn't think it would ever have to post a series of tips that included: "Do not curse at your customers, and do not call them stupid — especially in writing."
Every customer is important. And as the person handling customer service, it's definitely in your best interest to treat those customers with respect. Lashing out or trying to bully a customer is going to, at the very least, lose you that business. In this case, it lost the person more than just one customer. The whole entire exchange blew up in their face.
All of this could have been avoided with some very basic customer service strategies:
Do not argue with your customers.
Do not talk down to or insult your customers.
Listen to them and give their feedback or complaints your time and understanding.
Be honest with your customers. No one likes to hear that their product is late, but they'll be much more willing to deal with you and your company if you're honest with them and do not try to lie your way around the issue.
Honey, not Vinegar
After seeing the entirety of the mess Christoforo made, don't you think the entire thing could have been avoided if Christoforo had been honest and polite? And if he had offered some form of compensation for the obvious mistake in shipping the company he represented had made? A discount? A rebate? A gift card? If Christoforo had spent just half the time performing actual customer service instead of writing insults and snark back to his customer, none of this would have happened.
That's the lesson here. Customer Service needs to embrace the goal of long-term customer relationship building. As cathartic as the initial insults may have been for Christoforo, giving in to his frustration ultimately backfired for him and his business. Taking a hit on one customer due to having to be polite, and maybe even offer compensation for the mistake in shipping, would have saved Christoforo a lot of trouble.
This is a cautionary tale. Customer Service is important. Especially in the world of e-commerce where if things line up just right — you tick off a customer who has an open channel to one of the most widely read web comics — you could face the full force wrath of the internet.